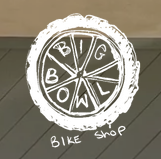 E-gift Card Vendor
Big Bowl Bike Shop
Tune Up's, Bike Rental, Classes, Apparel, Accessories, Specialized Bikes
Are you interested in learning how to ride dirt jumps? This local shop in Riverplaza is just the place for you. They have a wide selection of bikes for purchase and to rent if you were interested in checking out beautiful Petaluma on two wheels.
Current Services / Restrictions
In-Store Shopping, Curbside Pick up, Delivery
Discount Offerings
$10 off entry level tune up service with the use of your Shop Petaluma E-Gift Card!
Address
58 E Washington Street
Hours
Monday-Saturday 10:00am-6:00pm; Closed Sunday's
Connect

Meet our neighbors
Washington Street